Quality Service since 1947
Thank you for Visiting Our Shop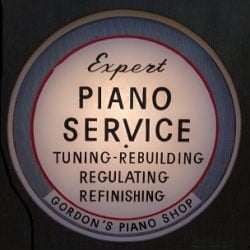 Gordon's Piano Shop has been serving piano customers in Northern California communities from the San Francisco Bay Area since 1947.

We specialize in restoration and repair, we offer many piano services that you can depend on.
Whether you need a piano tuning, regulation, restringing, voicing, hammer replacement, soundboard repair, we will provide you with exemplary service with affordable prices.

Our goal is to offer you courteous, professional piano service with high quality standards, even if it takes us extra time.
Gordon's Piano Shop is a renowned destination for music lovers and piano enthusiasts alike. Established in the heart of the East Bay, CA, Gordon's Piano Shop has been providing top-quality pianos, exceptional customer service, and expert advice to its customers for over 70 years. With a family of knowledgeable staff, a commitment to quality, and a passion for music.
Gordon's Piano Shop is an excellent destination for all of your piano needs.
Tuning your Piano, will greatly improve the quality of your life.
Piano Services
---
Links to our list of Top-notch Partners & Friends